Corpus Christi Caller Times

"How do you Measure a Great City?"


To create a memorable city requires character, memory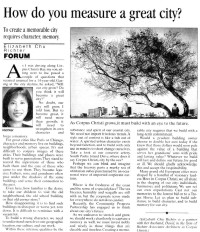 Driving along Corpus Christi Bay, my son, sitting next to me, posed a couple of questions that seemed unusual for a 14-year-old. Gazing at the city skyline, he asked, "Will our city grow? Do you think it will become a great city?" No doubt, our city will grow, I told him. But to become great, it will need more than growth; it will need to strengthen its own character and forge a memory.

For great cities like Paris or Chicago, character and memory live on buildings, neighborhoods, urban spaces. It's not difficult to conjure images of these cities. Their buildings and places were built to serve generations. They stand to record the aspirations of those who built them and the care of those who came to use them. They became legacies. Fathers, sons, and grandsons often pass under the shadows of the same buildings and sense their connection to the past. Even here, how familiar is the desire to take our children to visit the old neighborhood, the old school building or that old corner store? How disappointing it is to find such buildings in disrepair or worse yet, torn down. It is difficult to reminisce with a vacant lot.

To build a strong character, we need to understand ourselves: our geographic location, our culture and our work. Within these intrinsic qualities lie the substance and spirit of our coastal city. We need not import frivolous trends. A style out of context is like a fish out of water. A spirited urban character exists beyond function, and to build with only use in mind is to short change ourselves. Take a look at our concrete artery, South Padre Island Drive, where does it say Corpus Christi, city by the sea? Perhaps we can blink and imagine that the freeway parts a murky sea of utilitarian cubes punctuated by an occasional wave of imported corporate cartons.

Where is the freshness of the coast and the sense of a special place? The sea breezes, humidity and seagulls are still with us, but the corporate icons made for everywhere do not do us justice. Recently, the Community Progress Partnership has engaged us to think about our city's future. As we endeavor to stretch and grow, we should work relentlessly to capture a memory as well. We must invest nobly and wisely in those things that are durable and timeless. Creating a memorable city requires that we build with a long-term commitment. Would a prudent building owner choose to double her cost today if she knew that those dollars would soon pale against the value of a building that serves her grandsons' sons with pride and lasting value?

Whatever we build will last and define our future, for good or ill. We should gladly acknowledge this and accept the responsibility. Many grand old European cities were shaped by a handful of visionary leaders. Here in Corpus Christi, we all share in the shaping of our city: individuals, businesses, and politicians. We can set our own expectations. Cast not our memories to the lowest bid or to a Trojan Horse. Let us plan to build substance, to build character, and to build memory for our city.