Corpus Christi Caller Times

"The Richter Scale"


Architect remodels the city's urban aura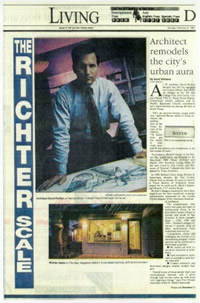 At 39, architect David Richter already has left his signature on Corpus Christi. Such Richter designs as the Del Mar College Fine Arts Center, Corpus Christi YWCA, Water Street Market, Greenwood Library addition and St. Mark's Episcopal Church consistently have been honored as among the best in South Texas. "He's an up-and-coming young architect," said Joel Barna editor of Texas Architect, the publication of the Texas Society of Architects. "As architects go, his career is relatively new, and he has gotten a lot of attention in the last couple of years."

For instance: Richter's home in the Pelican Bay Subdivision was featured in the May/June 1989 Texas Architect and March 1991 Southern Living. Plans for the new Creative Arts Center and Museum of Oriental Cultures also have appeared in Texas Architect. In 1990, Richter's firm, Kipp, Richter & Associates, became the first Corpus Christi firm in almost 20 years to receive a Texas Society of Architects honor award for its work on St. Mark's Episcopal Church, 2727 Airline Road.

Richter's designs consistently have been singled out for their excellence in design competitions sponsored by the Corpus Christi chapter of the American Institute of Architects. The competitions, held every few years, are open to architectural firms in an area from Corpus Christi to Laredo and south of San Antonio. In three competitions - 1985,1988 and 1991- Richter's designs received 11awards, while all other architectural firms combined received six.Competitors, clients and colleagues say Richter is an outstanding designer whose success can be attributed to tree basic qualities: He comes up with innovative solutions to problems, uses inexpensive materials in expressive and honest ways and creates attractive and functional designs despite modest budgets. "David is one of those people that's just tremendously talented, and if given enough rope he can come up with some very ingenious things." said Tim Woods, chairman of the St. Mark's Episcopal Church building committee. The committee hired Richter to develop a master plan for the 8,000-square-foot first phase that won the TSA design award.

Richter met with some distrust and skepticism from some committee members, Woods said, who didn't trust architects in general and others who found it difficult to accept some of Richter's more radical ideas. But Richter worked hard and spent so much time with church members trying to understand their needs that they began to trust him, Woods said. Still, one design feature - adjustable ceiling panels that could opened and closed to alter the acoustics in the church's multipurpose room - was greeted with disbelief when Richter proposed it, Woods said. Richter couldn't point to a building where the same method had been used before and he couldn't prove that the acoustics could be altered because he didn't run any scientific tests.

Richter, who spoke from his fourth-floor office in the Corpus Christi National Bank building, said he knew the adjustable ceiling panels would work as soon as he thought it up. Woods wasn't so sure. "I think even David was a little surprised at how much the acoustics changed, but he probably wouldn't admit that." Woods said. "Dave is thc ultimate professional - he never seems to get real excited." Woods said the day the panels went up was about as excited as he had ever seen Richter. He found him in the multipurpose room staring up at the ceiling and grinning from ear to ear. ''I said: 'Did you really know it was going to this good?' And he just laughed," Woods said.

Richter's wife, Elizabeth Richter, who has an architecture degree and works at Kipp, Richter & Associates, said her husband is easy going, listens and is a good mediator. But she said it's not his style to show his emotions. "He's not a person that reacts to anything very noticeably," she said. "He's just real calm, so it's hard to tell (what he's feeling)."Richter, a man of average height and build who looks too young to have been winning design awards for 10 years, said he doesn't get particularly emotional when his designs work. At the St. Mark's dedication ceremony, where he first heard the multipurpose room filled with the sounds of a choir and organ, simply confirmed what he already knew, he said. ''I can't give you any poetry, because that's not what I am," Richter said.

A private man who prefers to focus on his work instead of himself, he came to Corpus Christi in elementary school when his father, an oil man, migrated to Texas from Michigan. He's the second of four boys - separated in age by six years - who all grew up to enjoy successful careers. His oldest brother, Jim, 41, is a physician at Massachusetts General Hospital on Boston and teaches at Harvard University. Dan Richter, 36, owns his own computer software company in Corpus Christi, and Brian, 35, is a geologist who founded an oil drilling company in Denver.

As children, they hung out together and were extremely competitive, said Richter, who claims to be the black sheep of the family "We all consider ourselves the black sheep,' said Dan Richter, who founded Corpus Christi's Baytek Engineering Corp. "I think we're all kind of extra hard on ourselves; we're always trying to strive to do things better." Dan said his brother is driven to be successful, a quality David attributes in part to a fear of failure: "It doesn't sound like much fun to me," he said. Sam Morris; an architect with Kipp, Richter & Associates since 1980, said it's not unusual for Richter to work 10 hour days and weekends. "That's all he does; everything is centered around architecture - the trips he takes - he lives it 24 hours a day."

Richter and his wife, who met in a design class at the University of Texas, have traveled extensively in Europe and the Far East to view architecture. He said his wife, a native of Hong Kong, is his biggest personal influence, and he credits her with turning him into a pseudo opera buff and gourmet. Richter, 1992 president of the Corpus Christi chapter of the American Institute of Architects, said his work, his wife, and his three children - Maya, 15; Elissa, 12; and Michael, 9 consume most of his time. A sailor since college, he sold his sailboat recently after taking it out only three times in a year. Much of Richter's time is spent with clients getting to know them and identifying their needs. Among the qualities most praised by clients is his ability to listen. 'That's the greatest attribute David has besides his design ability." said Charles DeCou, who developed Water Street Market. Richter designed the Water Street Market exterior including arches that create a courtyard. He also designed the interior of Che Bello and what is now Totally Texas and Jito's Funwear.

Beverly Bacak, vice president and branch manager for the Bank of Corpus Christi- Esplanade Branch, 6130 S. Staples St., said in 1987 Richter spent several days watching bank employees work when he designed the new branch. "He actually came into the bank; he watched the paper flow, how thc work went so he could design the bank to be more functional," she said "He would watch what we did and ask what we would change if we were going to improve on it:' Bacak said.

Richter, a former high school debater who likes to philosophize about architecture, acknowledges the importance of listening to a client, but he believes it's more important to give clients what they need than what they think they need. An architect who follows a client's blueprint without asking questions is shrirking his responsibility, Richter said: "You always tread kind of a thin, careful line, because if you totally defer to someone's preconceptions then you sort of render your own ability to affect the process to be somewhat moot."

Joe Fulton, president of Fulton Construction Co., described Richter as a demanding but fair architect who pays close attention to details, especially those that relate to aesthetics. While working on an addition to the First Methodist Church, 900 S. Shoreline Blvd., Richter made Fulton's construction crew build six 20-brick panels of varying shades so Richter could pick the shade that most closedly matched the 20-year-old original structure. It's unusual to prepare that many brick panels, Fulton said. "His attention to detail was successful, and I believe the building looks like part of the complex and not added onto," Fulton said. Richter said he's not that particular about everything but he had to be about choosing the right shade of brick for the church addition. Church members insisted the addition blend in with the existing structure, so Richter made that a priority.

Other projects - such as the Greenwood Library addition - have other priorities, he said. Richter was charged with coming up with a design that would transform Greenwood into a "family learning center" to help combat the surrounding area's high illiteracy and dropout rates. Dorothy Castanon, Greenwood Library's branch manager, said the 3,200-square-foot addition changed the library from a run-of-the mill public building into a friendly, approachable place for children. The building features bright greens, yellows and blues, and a giant bulletin board displays arts and crafts created by local children. Picture books are shelved in bins so their covers face out to attract curious young eyes, and non-fiction children's and adult books are mixed to make grown-up volumes less intimidating, she said.

Indirect natural lighting from an innovative louver system, tot-sized furniture and an amphitheater in the children's area add to the friendly environment, Castanon said. Circulation has gone up more than 40 percent since the addition opened, and the goal of turning Greenwood into a family learning center seems to be working, she said. One woman with four young children can often be found sitting on the floor reading aloud to her children. Castanon said. Before the addition opened, the library's adult atmosphere discouraged people from talking and sitting on the floor, she said.

Traditionally, libraries are opaque and introspective for security reasons and because natural light is harmful to books, Richter said. The Greenwood addition features banded glass and a set of louvers like giant Venetian blinds that allow a high level of indirect light into the building but keep harmful direct light out. The design makes the library transparent and gives it energy, vitality and color, he said. The children's area is not immediately perceivable, and that gives it an exploratory quality appealing to kids, Richter said.

Richter's success can be attributed in part to his ability to infuse his work with idealism without losing touch with realities imposed by budgets and building codes. "To maintain that pragmatism and still try to be a dreamer is kind of the ultimate challenge," he said. Richter and his wife faced that dilemma when designing their home overlooking Oso Bay. It took them a year to sort through the possibilities and come up with a design they liked and could afford. It also meant Richter had to do much of the work himself. Much of the woodwork and decorative casting couldn't be done locally, and Richter couldn't afford to hire out-of-town firms, he said. He and his stepfather built the molds and poured the concrete castings themselves. The 3,100-square-foot home is a series of interlocking pavilions angled for a view of the bay, with large windows facing the water. The woodwork and front door are made of mahogany; the exterior is stucco to withstand the salt air and water. Windowsills, cornices and other details are made of concrete. Southern Living called it a house "in complete harmony with its environment."

Richter, who took over control of Kipp, Richter & Associates following the death of Robert Kipp two years ago, said at the moment he has no plans to expand his focus beyond the Coastal Bend. Elizabeth Richter said monetary success isn't what moves her husband, that it's his desire to do what is right for each project. That attitude makes every project unique, which means they never do the same thing twice, she said. Richter said to become a successful designer, an architect must develop a strong philosophical purpose and remain a generalist despite forces pushing toward specialization. "There's really a void of that sort of strong, generalist practitioner, which was sort of the ancient master builder image," he said. "To me, the challenge in architecture today is to regain that position when all the forces are pushing you to become more specialized."